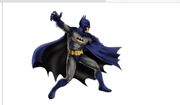 By Ami7Mina.]]Bruce wayne watched his parents get killed by a criminal When he was young. After This traumatic experience, he went into training with a retired ninja. Now a millionane playboy at day, he pust on a mask at night. He becomes the Batman, equipped with high tech gadgets and incredible skills at martial arts.
Tactican
75 JP
HP: 3 Bars
Stamina: 5 Bars
Attack: 4 Bars
Defense: 2 Bars
Accuracy: 4 Bars
Evasion: 3 Bars
Passive 1
Melee master

Takes Less damage from Melee attacks.
Level 1 Action
Batarang

One Enemy

bleeding

Taking Damage every turn
Taking Damage when doing an action
Level 2 Action
Lunge Kick

One enemy

stun

60% chance
Lose next turn

Wound exploit

Harms extra on bleeding targets
Level 6 Action
Batbots

One Enemy

Targeted

All attacks Against This target are guaranteed to hit and crit.

Summon attack

Stealthy

Does not trigger anything
Level 9 Action
Arm Buff

Self

Using This will trigger an arm gadget

Blades

All attacks cause Bleeding

Tasers

All attacks cause Electrified

Loses health every turn
All Electrified targets gets harmed, not just the one who has the turn

Armor

Batman gains 50% extra Defense
Alternate Uniforms
Edit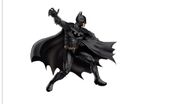 The Dark Knight alt:Additonal Passives
The Dark Knight Rises:
Batman has a 50% chance to counter all attacks against Batman.
Batman has a 50% chance to do a follow-up Batarang after every attack.
Cost: 50 JP