Hal Jordan was a jet pilot for the army. But When meeting a dying alien, the legendary green lantern Abin Sur, he got his green lantern power ring. Now a protector of the earths sector, and a founding member of the Justice league, he is a master of will and Justice.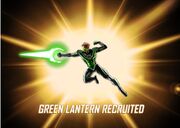 Blaster
100 JP
HP: 3 Bars
Stamina: 5 Bars
Attack: 4 Bars
Defense: 1 Bar
Accuracy: 4 Bars
Evasion: 2 Bars
Say the oath

In the brightest day

An ally must attack
When an ally attacks, grants "In the blackest night"

In the blackest night

An enemy must Attack green lantern
When green lantern gets attacked, grants "No evil shall escape my sight"

No evil shall escape my sight

Green Lantern must lose a turn
Losing a turn grants "Let those who worship evil's might"

Let those who worship evil's might

A Full found must pass
When a full rund has passed, green lantern gains "Beware my power,Green lantern's Light!"

Beware my power, green lantern's light!

These Buffs will appear When green lantern has to Low Stamina too Use any attacks.
Choose Your Path

May only take one Quick Action each turn.
Level 1: Basic Force

1.1 Plasma Blade

One enemy
High Crits

Higher Chance of critical hits.

1.2 Orb Shield

All Allies
Will shield

Shield effects absorb incoming Damage.

1.3 Shockwave

All Enemies
Exposed
Dizzy
Weakened
Shocking

This Attack does no Damage.

Quick Action

This Attack Allows a free turn after Use.

Level 2: The will's arsenal

2.1 Green Baton

One enemy
Stun

Loses next turn
60% chance

2.2 Railgun of will

All Enemies
1 round cooldown
guaranteed hit

100% chance to hit...usually

2.3 Quick Sword

One enemy
Quick stab

Quick action
Quick stab
Bleeding

Level 6: Incredible constructs

6.1 Rolling Stones
6.2 A Bomb

One Enemy
Radiation Exposure

6.3 Energy Gift

One Ally
Heals an ally 25% Stamina and 15% Health

Level 9 Airplane Stuff

9.1 Plane Crash

All Enemies
Burning
Bleeding
Ravaged

9.2 Missile
9.3 Wing swipe
Ad blocker interference detected!
Wikia is a free-to-use site that makes money from advertising. We have a modified experience for viewers using ad blockers

Wikia is not accessible if you've made further modifications. Remove the custom ad blocker rule(s) and the page will load as expected.